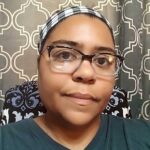 Damara Allen is a middle grade fiction writer who is currently working on a number of projects. After a lifelong desire to become a published author, she is working with Emily Keyes of The Keyes Agency, LLC.
Damara has recently announced her first book deal with Anna Parsons at Aladdin Books – tentative publication set for Fall of 2024.
Born and raised in snowy Central New York, Damara lives with her immeasurably supportive husband, her 11-year-old daughter, 4 cats, and a dog. When she's not writing or vacuuming up cat hair, she enjoys horror movies, Halloween, crafting, and traveling.